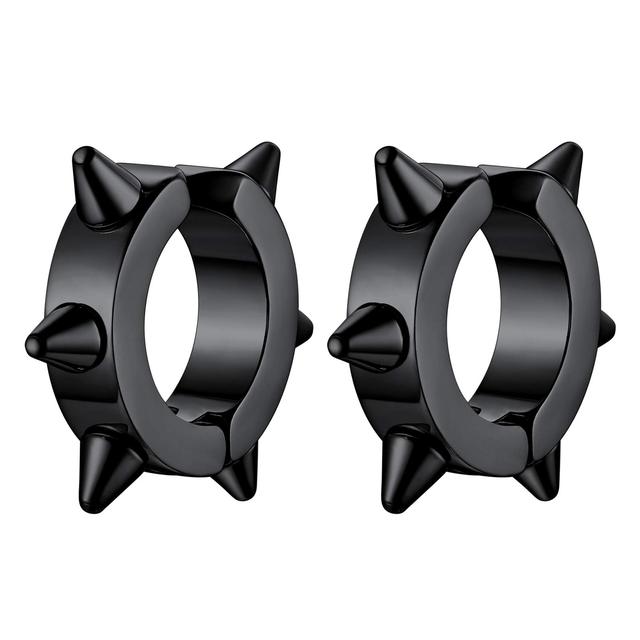 If you're looking to infuse your style with a daring and bold touch, look no further than the Hoop Spike Earrings. As someone who appreciates unique accessories, I had the opportunity to try these earrings, and I must say they exceeded my expectations, instantly elevating my ensemble with their edgy and punk rock vibe.
The combination of a classic hoop design with the addition of spikes along the outer edge creates a captivating and attention-grabbing look. These spikes add a rebellious flair, making a powerful statement wherever you go. Whether you're attending a concert, a night out with friends, or simply want to showcase your individuality, these earrings are the perfect accessory to help you stand out from the crowd.
The sleek black finish of these earrings adds an element of sophistication to their overall aesthetic. It creates a striking contrast between the dark hue and the metallic spikes, resulting in a captivating blend of edginess and elegance. This combination allows the earrings to seamlessly transition from casual day wear to a stylish evening look, making them a versatile piece that complements various outfits.
One aspect that impressed me about these earrings is their ease of wear and secure closure. The simple snap closure ensures a comfortable fit while keeping the earrings securely in place throughout the day. This feature is particularly important for those who lead active lifestyles or enjoy dancing the night away, as it eliminates any worries about losing these captivating earrings.
Beyond their appeal for personal use, the Hoop Spike Earrings also make an excellent gift for fashion-forward individuals. Whether you're shopping for a trendsetter or someone looking to experiment with their style, these earrings are a surefire way to make a memorable impression.
In conclusion, the Hoop Spike Earrings are the epitome of edgy sophistication. Their unique design, combining classic hoops with daring spikes, adds an undeniable allure to any outfit. The sleek black finish further enhances their overall appeal, making them a standout accessory that effortlessly complements various occasions. If you're seeking to make a bold statement with your jewelry, these earrings are a must-have addition to your collection.